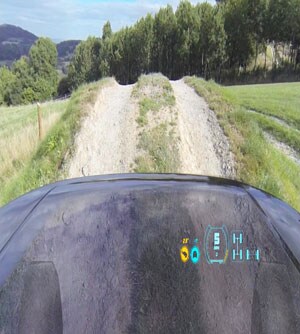 Land Rover recently released its "See-Through Virtual Imaging Technology" concept to the public this month, and gave the world of automotive enthusiasts a taste of technology at last week's New York International Auto Show. What's this mean for Land Rover buyers? Think video games. Think transparency. Think of a virtual road trip. This might be the most advanced camera and video technology to ever be built inside an SUV.
This new idea was essentially designed to help drivers in off-roading conditions. The most important part of successful off-roading adventures is your ability to know your surroundings. You must know what's behind you, ahead of you, below you and above you at all times. This virtual technology will use an incredibly high-tech camera to project onto the windshield and allow you to see what's ahead before your own eyes can physically see it through the windshield.
For example, as you're driving up a steep hill in your Land Rover, this camera will show you what's on the other side of that hill once you've reached the top. You can actually see what is ahead of you through the display, and keep track of your tires on screen too - know exactly the angle and position of your front wheels at all times. Click here to watch the YouTube video of this incredible Land Rover technology. Visit our latest Land Rover and Jaguar inventory here - or contact us today to learn more.